DEWALT 60V String Trimmer Review
DEWALT 60V MAX Flexvolt String Trimmer DCST972X1
Product description Style: 60V Battery The DEWALT 60V MAX. String Trimmer is designed to power through tough overgrowth and withstand everyday heavy-duty usage. It features a high-efficiency brushless motor that maximizes runtime and motor life, and its lightweight and ergonomic design maximizes control and minimizes stress on your arms. Get the flexibility and trimming power needed to finish the job with the DEWALT 60V MAX. Attachment Capable String Trimmer. The high-efficiency brushless motor maximizes runtime and product life while consistently providing the capacity to tackle tough overgrowth and withstand heavy-duty use.
I recently got a chance to test out one of DEWALT's newest outdoor tools, the DEWALT 60V String Trimmer (DCST972X1). The kit includes a 60V trimmer with a single 3.0 Ah battery (9Ah for 20V Flexvolt) and charger. Having always relied on 2 and 4-cycle gas-powered trimmer, I was curious to see how a battery-based platform performed. I had high expectations and lots of weeds that needed to be cut. Fortunately, the DCST972X1 didn't disappoint!
DEWALT 60V String Trimmer Specifications
Tool Weight: 9.6 lbs
Power Source: Lithium-Ion 60V MAX* Flexvolt battery
Amp Hour: 3.0 Ah (9.0 Ah for 20V motors)
Line Diameter: 0.08″ or 0.095″
RPM: Low 0-4650 RPM / High 0-5800 RPM
Cutting Swath: 15″ or 17″
Features
Universal attachment capable
QuickLoad™ spool
Variable trigger with HI/LO speed settings
Brushless motor
3-year Limited Warranty
Ergonomics
The DEWALT DCST972X1 String trimmer features a well-designed and balanced "D" shaped handle. It is comfortable and allows the operator to easily position it to balance the weight of the cutting head and motor. From there the Hi/Low switch is conveniently located within thumbs reach. Lastly, the textured rubber overgrip and dual-stage tang safety lever with the large trigger are intuitive and comfortable to hold for extended runtime.
Design & Performance
Compared to traditional gas-powered string trimmers I'd always used, this trimmer has two obvious advantages. First, it is very quiet for a string trimmer. I'm in the habit of always wearing ear protection (mostly so I can listen to music while working) but I could easily have not worn any when using the DCST972X1. That being said it isn't a "whisper" motor by any means as it still produces a high-pitched whine when you push up the power.
Second, there was comparatively less vibration. To be sure, there will always be vibration associated with a motor of any kind. But without pistons moving, the vibration was significantly reduced. It was noticeable while cutting and even more noticeable when I stopped cutting and didn't have a numb or fatigued shoulder. For any Pro or homeowner running a weed eater for an extended amount of time (30 min+), you will absolutely appreciate the difference!
Runtime and Power
The DEWALT DCST972X1 60V String Trimmer is packaged with a 3.0 Ah battery (9Ah in a 20V Flexvolt tool). At full charge, this battery allowed me to spend 45 minutes intermittently trimming around my property. When I was done cutting I was down to 1x bar on the battery. Runtime during actual operation will vary depending on the resistance of what is being cut. The beauty of any battery platform is the ability to swap batteries and keep going. But the beauty of this platform is the ability to also pull the battery off this 60V tool and use it in a 20V DEWALT tool seamlessly.
The trimmer has an adjustable 15″ or 17″ diameter cutting area that is serviced by a dual-line bump feed. I had no issues with line pinching or line pull-out. The line fed consistently every time I bumped it, even when bumping it on semi-soft soil. I tried to do an even amount of Hi and Low cutting. The low setting was more than adequate for light-mid duty cutting and the high easily handled everything else. I even tested it out on some 3/8″ diameter vines and it was no problem in the high mode.
Maintenance and Care
Aside from routine cleaning, the only regular maintenance required for the DEWALT DCST972X1 60V string trimmer will be to re-feed the string once it has been used. Like other DEWALT string trimmers, DCST972X1 has a QuickLoad™ spool that allows the user to easily re-spool the trim line. As outlined in the manual, you:
Pop the cover off
Feed 25′ of line halfway through, and
Wind it up in place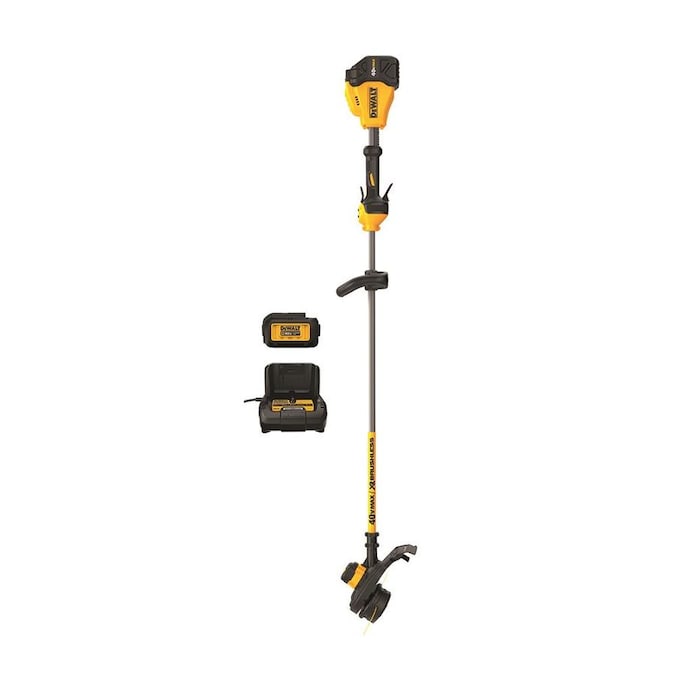 There was no need to have someone else hold the shaft or spool while loading. It was a very easy and user-friendly process.
Final Thoughts DCST972X1
The DEWALT DCST972X1 60V String Trimmer is an excellent trimmer with high-end power. It features a large 17″ cutting area powered by a virtual maintenance-free 60V brushless motor. The Flexvolt battery platform is exceptional and offers those new to cordless tool platforms to instantly expand on DEWALT's 20V and 60V lineups. The design is top-notch and ergonomically seamless, as I've come to expect from DEWALT. This is the best string trimmer I have ever used and trust me, I've used too many. Kudos to DEWALT on the overall power, design, and performance of the DCST972X1.
Related Posts
About the author
Disclosure
Product reviews on this site contain our opinion of a product or service. We will always strive for objectivity and transparency in our reviews. Our goal is to provide readers with honest, objective information based on our own experiences. We never have and never will accept payment in exchange for a positive review. Many of the products that we review are provided to us for free by a manufacturer or retailer. In some cases, we also have advertising or affiliate relationships with manufacturers and retailers of products and services we review. For additional information please visit our additional disclosure policies.
Last Updated on April 20, 2021 by
The time has come for you to buy a new weed trimmer, but you're over the idea of using gas-powered tools since they have heavy carbon footprints.
You also don't want to invest in a corded electric tool, because we all know what a big schlep it can be to drag that electrical cord around with you while you're working, not to mention the likelihood of cutting through that cord while working!
So what's a man (or woman) to do?
Well, you can invest in a battery-powered string trimmer, and yes, it can and will probably change your life!
Contents of This Page
60V DeWalt Battery Powered String Trimmer
Brushless motor
Variable speed trigger
Dual line option
Ergonomic lightweight design
Over the last few years, cordless trimmers have advanced in leaps and bounds. There are a lot of battery powered string trimmers available on the market today, priced at anything between $100 and $500.
In this article, we'll be taking a closer look at one of the market leaders: the DeWalt 60V MAX cordless string trimmer with a 3.0 ah battery. We'll be assessing the tool's abilities, considering its performance, and mostly, assisting you with deciding whether or not this robust trimmer might be the ideal fit for your budget and personal needs.
Details on Dewalt's Range of Outdoor Power Equipment
When DeWalt launched its FlexVolt power tool range, we never imagined it would be as innovative as to include the likes of 60V MAX chainsaws, handheld blowers, and weed eaters.
These essential yard tools have all been designed for use in residential and commercial applications, and as with the rest of the FlexVolt range, the batteries on the 60V MAX String Trimmer are backward compatible with DeWalt's 20V Max system power tools, which spans across more than 100 products.
What is The DeWalt Max Flexvolt ?
It is a unique battery system developed by DeWalt that enables you to use the same battery across a range of different tools. You can use the 60Volt Flexvolt battery with any DeWalt Flexvolt tool, whether it be 20V or 60V, or 120 Volts.
If you're using it with a 120V tool, you need to use two batteries to deliver 120 volts. You CANNOT use 20V max batteries in 60V or 120 Volt tools!
DeWalt FlexVolt 60V Max Cordless String Trimmer Introduction
As you might know by this time, DeWalt's range of FlexVolt tools has been designed for serious folks who want to go cordless as far as their power tools are concerned.
Because the 60V MAX String Trimmer runs on the FlexVolt system, the trimmer (and it's other brothers in the same class) work on batteries that are able to power FlexVolt tools as well as any other 20V Max DeWalt tools you might already own.
Dewalt Cordless 60v Trimmer Attachment Capable
Our first impression of the DeWalt 60V MAX String Trimmer was that it was built with ruggedness in mind, and it looked as if it could easily take the beating of working hard every single day.
It looks like a professional tool, but depending on just how much run time you get on the battery, it may or may not hold up to the standards that DeWalt has set out there.
As far as impressions with regards to scale and reach go, this tool reminds us of the Husqvarna gas-powered string trimmer. The only significant difference here is that, straight off the bat, the FlexVolt 60V String Trimmer has bucket loads of extra power, and it also seemed to be much more versatile.
Notes on the design of the FlexVolt 60V String Trimmer
Since it has been designed with a split shaft, the DeWalt FlexVolt String Trimmer doesn't have to be assembled with a range of unique tools. All you'll have to do on your part is to loosen four bolts if you'd like to adjust the guide handle for optimal user comfort.
Looking at the tool itself, it's long and stands high at almost 74 inches. The weight of the 60V, 3.0AH battery has been nicely balanced out thanks to the fact that the motor has been placed at the head of the trimmer.
What this offers is a more direct connection to the spool, eliminating the need to continually turn a long rod inside of the shaft.
We like the addition of the protective foot below the battery housing on the tool since it allows you to set the trimmer on the ground without the need for setting the battery and wiring the tool in the cuttings and dirt.
Does the DeWalt 60V Trimmer Have a Lightweight and Ergonomic Design?
The short answer is yes. There's a backward lean on the guide handle of the trimmer, which is caused by the weight of the 3.0AH battery.
You might think that this would cause an uncomfortable user experience, but it actually balances the tool out perfectly, making it super easy to work with.
Since the trigger handle has a rubber overmold, it's comfortable enough to use for prolonged periods of time and also offers a secure grip that's designed to withstand everyday heavy duty usage.
We really like the ease of operation as far as safety is concerned. In order to defeat the safety, you'll need to push down on the trigger mechanism. Out of all the safety mechanisms out there, this one is probably the most innovative and easiest to use.
With a standard D-shape guide handle, you'll have an abundance of gripping options while working with this string trimmer.
With a thick over-mold handle, users won't feel much vibration while using this tool, but thanks to the FlexVolt 60V String Trimmer's solid core, it doesn't cause a lot of vibration in the first place.
Overall, we reckon that this trimmer, weighing in at a total weight of 12 pounds, has an ergonomic design and isn't too heavy thanks to its balance, although we will admit that there are lighter options available on the market.
How Does The DeWalt 60V Weed Eater Perform?
To start off with, the FlexVolt String Trimmer has two operating speeds, but this can be found in almost all weed trimmers in its class.
The difference with the DeWalt 60v String Trimmer is that it offers 5600 RPM in low mode and 6600 RPM in high mode. Essentially, you should be able to get most of your trimming work done on the low power setting, only turning to the high power setting for those extra thick and high bushes.
Regardless of which speed you operate the FlexVolt String Trimmer on, there's very little vibration to be picked up.
Thanks to this string trimmer's minimal vibration, plenty of power, and neutral balance, it should be an absolute breeze to tackle even the toughest of trimming jobs.
The DeWalt FlexVolt 60V String Trimmer gives you 15 inches of cutting swath, just like DeWalt's 40V MAX model.
It comes pre-spooled with a line diameter 0.080 square inches, making it ideal as a property maintenance tool.
Some folks might find that the preset line is enough for their needs, eliminating the need to change to a 0.095-inch line. If you prefer, you can also flip the cutter around and bring the cutting swath down to 13 inches.
Notes on the DeWalt 60V MAX Weed Eaters Guard and Line Changes
Some folks might find the cutting guard of this string trimmer to be a little on the small side. As long as you're paying close attention to the rotation and direction of cutting, you should be able to push the grass away from you without risking the idea of getting injured if you're not wearing long pants.
As far as line changes are concerned, you'll need to wind both of the lines individually. Thanks to the holding slots on the trimmer, putting the head back together after a line change won't be a major issue.
60V DeWalt Brushless String Trimmer kit
High efficiency dewalt motor
Ergonomic design maximizes control
Cutting width of 15 inches
Low stress on your arms
What Are Some of the Key Features in the Dewalt 60v String Trimmer?
It has a gear drive design that easily cuts and clears tough overgrowth
The high-efficiency brushless motor ups the ante as far as motor life and battery runtime is concerned
With a 15-inch cutting swath and a pre-spooled 0.080-inch line, it's a very effective trimmer
It comes with a variable speed control trigger, and for added power or extension of battery run time, you can choose between running it on High or Low-speed settings
Thanks to this trimmer's ergonomic design and light overall weight, this tool is easy to use and control and won't fatigue your arms as fast as most other trimmers in its class
It's a rugged trimmer that was designed to withstand heavy-duty trimming
DeWalt 60V String Trimmer Specifications
Battery system
60V Max, 3.0AH battery
Power source
Lithium Ion
RPM
Dewalt Weed Eater 60v Amazon
0-5,600 / 0-6,000 RPM
Batteries included with kit
1. (Can be purchased without a battery)
Cutting swath
15 Inches, adjustable to 13 inches
Feed type
Bump feed
Line diameter
0.080 inches / 0.095 inches
Total weight
12 pounds
Kit includes
1 x 60V MAX 3.0AH Lithium Ion Battery, 1 x charger, 1 x auxiliary handle, 0.080 inch pre-spooled line
Warranty
3 year limited warranty on the motor and parts
What are the Advantages of Using the DeWalt 60V Weed Eater?
Offers a great neutral balance while working
Minimal vibration on the high power and low power settings
Very powerful
Able to tackle the most rugged of cutting jobs
Comes with a comfortable over-mold handle or optimal user comfort
No need to assemble the tool yourself, it comes preassembled
What are the Disadvantages of Using the FlexVolt 60V Weed Whacker?
The guard is a little too small
Due to the weight of the FlexVolt battery, this tool isn't the lightest in its class
Doesn't have a speed-feeder, but instead works with bump feed
The Final Verdict
Technically, the DeWalt 60V String Trimmer was made with household users in mind, but it's definitely more than willing and capable of tackling commercial applications.
Thanks to the FlexVolt 60V String Trimmer's ergonomic design, the minimal vibration during use, and the amazing power of this tool, we reckon that it might be the class leader in cordless string trimmers.
Sure it could use some improvements in the weight department, but its total weight can be blamed solely on the heavy weight of the FlexVolt battery.
We'd love to see some kind of speed-feed style being incorporated on the head of this trimmer in the near future. When you couple that with a wider guard being added to the tool, it might become the unsurpassed market leader someday soon.
So would we recommend the DeWalt 60v String Trimmer?
Well, the answer is definitely yes. This tool offers amazing value for money, the power to spare, and the ability to tackle just about any trimming job you could imagine.
We think this is the perfect tool for keeping the yard in check, and since it's such a comfortable tool to use, we don't think you'll grow tired of trimming edges anytime soon.
As an added bonus, the DeWalt trimmer isn't priced ridiculously either, for a very reasonable price, you could well be investing in one of the best outdoor cordless tools currently available on the market!
60V DeWalt Brushless String Trimmer
Brushless motor maximizes runtimeLegendary Dewalt qualityCutting width of 15 inchesErgonomic lightweight design
Last update on 2021-05-10 / Affiliate links / Images from Amazon Product Advertising API