What is my IP Address? If you have ever asked yourself this question and you want to know what your IP is, then you are at the right place! You will find some helpful details below that will answer this question for you and explain to what your IP address is and other technical information.
Further below you are going to see some details, and let us explain very quickly what each of those things are before you start your review. The first where it says "IP Address" - well guess what, that is your IP address as seen by the outside world. The next says 'Hostname' and this is the host of your IP. After that, you will see the Remote Port, Protocol method, Connection type, and some location data.
The location data includes when available, the Country, Region, and City of your IP address details. Now, what is my ip address? Find out below!
Your Public IP Address
Unless the user has a specific home network, there will be no use for the proxy port number on home-based computers. If you are an advanced Linux user and want to be able to set the proxy utilizing Squid, see the 'Resources' section of this article. Your public IP address is an external facing IP Address that's provided by your Internet Service Provider (ISP). A Pubic IP Address is accessible by anyone on the Internet. Check a port's status by entering an address and port number above. The open port checker is a tool you can use to check your external IP address and detect open ports on your connection. This tool is useful for finding out if your port forwarding is setup correctly.
IP Address
188.40.85.20
Decimal Representation
3156759828
PTR Resource Record
static.20.85.40.188.clients.your-server.de
ASN
AS24940
City
Country
Germany
Country Code
DE
ISP
Hetzner Online GmbH
Latitude
51.2993° (51° 17′ 57″ N)
Longitude
9.4910° (9° 29′ 27″ E)
Organization
Hetzner Online GmbH
Postal Code
Network Speed
corp
State
State Code
Timezone
Europe/Berlin
Local Time
2021-05-10 08:36:40+02:00
Ever asked What Is My IP to yourself?
When you did, does it leave you scratching your head? Similar questions are 'What is my IP address' and 'What is my IP' - all very closely related questions to what your IP information actually is. Let's take a look at answering this question and you find out what is my ip address (which can be both internal and external in nature).
The first important issue to breakdown is what an important term in that question is - the focus of the IP address term exactly. As defined by Wikipedia, an IP Address is known as 'an Internet Protocol address and is a numerical label assigned to each device participating in a computer network'. To break this down in simpler terms, every device you have connected to a network requires an IP address in order to talk with other devices.
Your mobile phone, your printer, laptop, iPad or Google tablet all require this IP data. Think of it like the phone number of the internet. It is required to send and receive information over the network. No matter if your network is at home, at work, or using a mobile service - the IP address can be found on each of them.
To search for what is my IP - you first need to know what IP you are searching for? First, are you trying to find what the IP is for your computer or for your mobile phone? Maybe it is for your printer because you are trying to setup a new one you just purchased online? This information will demonstrate a few ways you can find your IP, depending on the device you need your address data for.
1. What Is My IP on a Laptop or Desktop computer?
When asking this question, there is a good chance you are simply referring to your external facing IP address (the IP info that the rest of the world sees coming from you). To find 'My IP' for this reason, look below and it will show you What is my IP - which is the easy IP to find. You can even use the homepage of IP-Adress.com on an Android tablet or iPad also.
2. What Is My IP on a mobile phone like the iPhone or Android?
Finding what your IP information is on a mobile device can be a little more tricky, but still doable. In order to display what IP information the rest of the world sees from your smartphone, you can download an app from the IP-Adress.com App Store that will show ip address information right on your device. Because not every website is formatted for mobile web visitors, it is best to install an app that correctly formats and displays your IP address data. To find what is my ip on your device, visit our computer apps store.
Depending on what IP details you need, the above steps will help you to determine and answer the question 'What Is My IP' quickly. Just follow the guidelines listed above, and IP address discovery can be made much more simpler and easier without spending too much time trying to figure out some of the more confusing aspects of finding your IP!
WebRTC IP addresses and port ranges can be a bit tricky for those unfamiliar enough with VoIP. I'd like to shed some light about this topic.
A recent back and forth discussion that I had with one of the people taking my online WebRTC course made it clear to me that there are still things I take for granted because I come with a VoIP heritage to what it is I am doing today. Which is why this article here.
What Is My Ip Port Scanner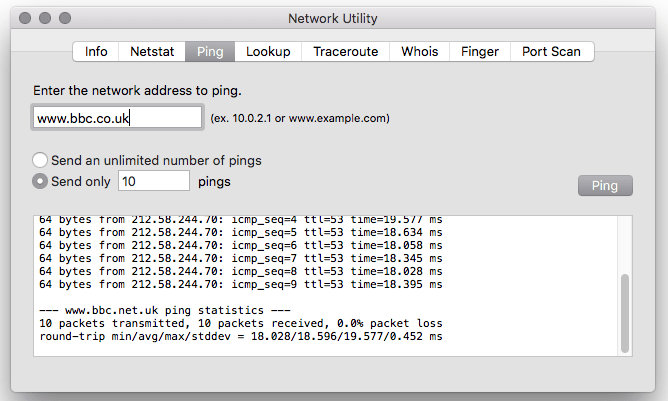 Connecting a WebRTC session takes multiple network connections and messages taking place over different types of transport protocols. There are two reasons why that decision was made for WebRTC:
There was a desire to have it run peer to peer, directly exchanging real time media between two browsers. This requires a different look at how to handle network entities such as NATs and firewalls
Real time media is different from other data sent over the internet in browsers. The transport and signaling protocols already available were just not good enough to preserve high quality and low latency
Lets see how connections get made over the internet and how WebRTC makes use of that.
A quick explainer to internet connections
We will start by looking at the building blocks of digital communications – TCP and UDP.
The table below summarizes a bit the differences between the two:
TCP connections
TCP is a reliable transport protocol. As such, it has a built-in retransmission mechanisms that is meant to make sure whatever is sent is received on the other end and in the same order of sending.
To do that properly, a TCP connection needs to be created. A TCP connection is a set of 4 values:
Source IP:Source port + Destination IP:Destination Port
How does one establish a TCP connection?
On your local machine you "bind" one of the local IP addresses of the machine to a local port number. That IP and port needs to be available and not taken for something else already. Then you need to try and connect to the destination IP:port.
Let's say I want to connect to google.com.
For me, google.com resolves to the IP address 172.217.23.110. Assuming I want to connect to port 80 (a "randomly" picked port), I'd do the following: Bind a local IP:port (arbitrary local port), and connect it to 172.217.23.110:80.
Knowing the IP:port on source and destination of the connection means knowing the connection – there cannot be two such connections. Once you bind a local port to connect it to a remote address over TCP, that port cannot be reused until the connection is closed and done with.
If I want to open another TCP connection from my machine to the same address, I will need to bind yet another port on my local address and connect it to the destination IP:port,
Obviously, there are some caveats and edge cases I am ignoring here, but for our needs, the above is enough of an explanation.
UDP "connections"
Since UDP is connectionless, there's no real connection with UDP. No context whatsoever.
To send a message over UDP, I need again the quad of values:
Source IP:Source port + Destination IP:Destination Port
But this time, there's no real connection. What happens here is that I open a local IP:port, and whenever I want to send out a message, I just tell it the destination IP:port and be done with it.
WebRTC signaling connections and addresses
WebRTC signaling is just like any other web application connection.
In order to send and receive the SDP blobs to make the connection, I need to be able to communicate between the browsers and that is done using traditional networking means available in the browser: either HTTP or WebSocket. Both (ignoring HTTP/3) are implemented on top of TCP.
What Is My Ip Port
What does that mean?
When my browser connects to the signaling server, it connects to an HTTPS or a Secure Websocket address (because… security)
The destination address will be whatever the DNS will resolve for the name of the server I connect to; and for the most part, this connection will be done towards port 443
The local address will be whatever local address I have on my machine
The local port will be an arbitrary local port that the operating system will allocate
The end result?
What Is My Ip Port Scanner
Local ports are arbitrary (and ephemeral). Destination port is 443 (or whatever advertised by the server).
WebRTC media connections and addresses
Media in WebRTC gets connected via SRTP. Most of the time, that would happen over UDP, which is what we will focus on in this section.
In naive SRTP implementations from before the WebRTC era, each video call usually used 4 separate connections:
RTP for sending voice data
RTCP for sending the control of the voice data
RTP for sending video data
RTCP for sending the control of the video data
While WebRTC can support this kind of craziness, it also uses rtcp-mux and BUNDLE. These two effectively bring us down to a single connection for voice, video, media and its control.
What happens though is this –
You create a peer connection
Then you add media tracks to it, effectively instructing it on what it is about to send or receive (or at least what you want it to send or receive)
WebRTC will then allocate and bind local IP addresses and ports to handle that traffic. As with outgoing TCP connections, the local ports are going to be arbitrary and ephemeral
The allocated IP:port addresses are now going to be used in the SDP being negotiated. These will be used as the local candidates
Since these addresses and ports are local, there's high probability that they will be blocked by firewalls for incoming traffic.
What Is My Port Number
Media servers work in the exact same way. In most cases, the addresses that they will use will be public IP addresses, but the ports will be arbitrary. That's because media servers usually prefer handling each incoming device separately, by receiving its traffic on a dedicated socket connected to a specific port.
STUN "connections" and addresses
Since we're all behind NATs with our private IP addresses, we need to know our public IP address so we can connect to others directly (peer-to-peer).
To do that, STUN is used. WebRTC will take the media local IP:port it created (in that section above), and use it to "connect" over UDP to a STUN server.
This is in concept somewhat similar to how our signaling works – the local IP address has an arbitrary port, while the remote IP:port is known – and configured in advance in our peer connection iceServers. My advice? Have that port be 443.
Why do we do all that with STUN? So that we create a pinhole through the NAT which will allocate for us a public IP address (and port). The STUN server will respond back with the IP address and port it saw, and we will publish that so that the other side will attempt reaching out to us on that public IP:port pair. If the NAT allows such binding, then we will have our session established.
The above shows how Google's STUN server works from my machine in AppRTC:
My private address was 192.168.1.100:57086
The STUN address in the iceServers was 108.177.15.127:19302 (the 19302 is the static port Google decided to use – go figure)
My public IP address as was allocated by the NAT was 176.231.64.35:57086 (it managed to maintain and mirror my internal arbitrary port, which might not always be the case). This is the address that will get shared with the other participant of the session
TURN connections, addresses and port ranges in WebRTC
With TURN, the server is relaying our media towards the other user. For that to happen, my browser needed to:
Connect to a TURN server
Ask the TURN server to allocate an address for the relay (and let me know what that address is)
Use that address for incoming and outgoing traffic for the remote participant of the session
The above shows how Google's TURN server works from my machine in AppRTC: Jall digital alarm clock manual.
My private IP for this session was 192.168.1.100:57086 (it was a different port, but I was too lazy to look it up, so bear with me)
The STUN address in the iceServers was 108.177.15.127:19305 (as with STUN, the 19305 is the static port Google decided to use – still not sure why)
The TURN server replied back with an allocation address of 108.177.15.86:28798. This was then placed as my ICE candidate. If the remote participant were to send media towards that address, the TURN server would forward that data to me
UDP, TCP and TLS work similarly in TURN when it comes to address and port allocation. What is important to notice here is how the TURN server opens up and allocates ports on the its public IP address whenever someone tries to connect through it.
Understanding port ranges in WebRTC configurations
WebRTC makes use of a range of addresses, ports and transport protocols. Far more than anything else that we run in our browsers. As such, it can be quite complex to grasp. There is order and logic in this chaos – this isn't something inflicted on you because someone wanted to be mean.
In WebRTC the addresses and ports that get allocated by the end devices (=browsers), media servers and TURN servers are dynamic. This means that in many cases we have to deal with port ranges.
Go to any voice or video conferencing service running over the Internet. Search for their address and port configuration. They all have that information in their knowledgebase. A list of addresses and ports you need to open in your firewalls, written nicely on a page so that the IT guy will be able to copy it to his firewall rules.
Should these ranges be large? As in 49,152 to 65,535? Should this range be squeezed down maybe?
I've seen vendors creating a port range of 10 or 100 ports. That's usually too little to run in scale when the time comes. I'd go with a range of 10,000 ports or more. I'd probably also try first to estimate the capacity of the machine in question and figure out if more ports might be needed to maintain the sessions per second I am planning on supporting (allocated TCP ports take some time to clear up).
Is this "wholesale" port range a real security threat or just an imaginary one? How do you go about explaining the need to customers who like their networks all clamped down and closed?
–
If you are looking to learn more about WebRTC, check out my WebRTC training courses. In the near future, I will start working on a new course about TURN installation and configuration – if you are interested in early access – do let me know.